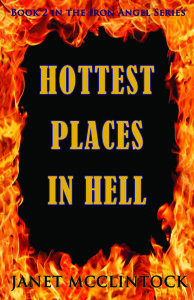 HOTTEST PLACES IN HELL (BOOK 2 OF THE IRON ANGEL SERIES) WAS RELEASED BY BLACK OPAL BOOKS ON AUGUST 22, 2015 AND IS AVAILABLE AT AMAZON.COM, BARNESANDNOBLE.COM, KOBA, AND BLACKOPALBOOKS.COM.
My debut thriller, Worst of All Evils published by Black Opal Books was released on November 8, 2014! It is available at Amazon.com, BarnesandNoble.com, Smashwords and BlackOpalBooks.com
When I enlisted in the US Army, I took an oath to defend the Constitution from all enemies foreign and domestic. The question at first was: is the oath for the term of service or forever?
Once I decided it was forever, I asked myself what would I do if a tyrannical administration in Washington, D.C. voided the Constitution?
What came forth was Joan Bowman's story.
Joan's story is a metaphor for decisions we all have to make from time to time. Our decisions will be different, depending on what has a grip on our lives. Hopefully, we won't have to do something as death defying as joining an underground resistance group.
"Live free…"
What's interfering with your freedom? For Joan Bowman it was the new political system in Washington, D.C. But it doesn't have to be something as wide-sweeping as a political system, culture norms or economic policies. It can be an abusive relationship, addiction to drugs, a gambling habit or mental illness that is treatable with medication. It can be as individual as overspending or hoarding or being trapped in a job you hate. Only you know what it is.
"…or die."
The lifestyle that is causing stress for you and those around you will be the death of you—not necessarily physical death. It can be emotional, psychological or professional death, as well. It can tear apart your family or alienate your friends.
For Joan, it was death to her sense of honor. The oath was forever, not limited to her time serving her country, and she feels obligated to do something, or her honor will be tarnished, her dignity assaulted. She joins an underground resistance group called the Constitution Defense Legion, believing it is the honorable thing to do.
"Death is not the worst of all evils."
What can be worse than death? Fearing an abusive spouse. Needing the next fix. The disappointment in a loved one's eyes after a gambling binge. Mental illness before the welcome relief of medication. For Joan Bowman, joining the Constitution Defense Legion turns out to be a mistake that was worse than all evils, including torture at the hands of fellow members of the Legion. And it just gets worse from there.